Timmon Milne Wallis, Co-Founder and Executive Director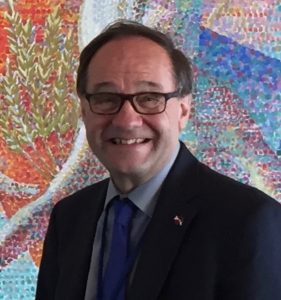 Timmon Milne Wallis is the Executive Director of NuclearBan.US. He holds a PhD in Peace Studies from Bradford University.  He has served as executive director of Nonviolent Peaceforce, and he has directed peace-building projects in Colombia, Guatemala, Mexico, Northern Ireland, Kosovo, Georgia, Myanmar, Chechnya, Croatia, Sri Lanka, Philippines, and South Sudan.
He has also served as editor of Peace News, as director of the National Peace Council (UK), as international secretary of Peace Brigades International, as training manager for International Alert, and as programme manager for Quakers in Britain.  He was the founder and director of Peaceworkers UK.
His new book, Disarming the Nuclear Argument: The Truth About Nuclear Weapons, analyzes the cost, accident risk, and legality of nuclear weapons, and the absurdity of the whole concept of perpetuating nuclear weapons as "deterrence."  The book played a role in the successful July 2017 United Nations negotiations for a Nuclear Ban Treaty, and it is a handbook for those seeking a safer, saner world.
Vicki Elson, Co-Founder and Creative Director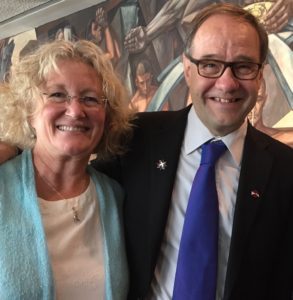 Vicki Elson is the co-founder of NuclearBan.US and serves as the Creative Director. When Vicki became a mom in 1981, she became acutely concerned about protecting her beautiful children from nuclear wars and nuclear accidents.  She thought she was neurotic, and she told herself to stop worrying so much.  She spent 35 years raising her kids and grandkids and making herself happy by working as a childbirth educator, filmmaker, and labor support "doula."  But after Fukushima she started worrying again, and she realized that she's not neurotic at all — it's a crazy world where the profits of a few put the entire planet in unspeakable danger. In July 2017, she had a life-changing opportunity to witness the U.N. negotiations for the Treaty on the Prohibition of Nuclear Weapons, and she watched the roomful of ambassadors break all their own rules (no clapping, no hugging) when the Treaty was agreed.  Now she makes herself happy by doing something constructive about nuclear weapons: spreading the message of total abolition to communities across the USA.  She thinks that's an even more important way to help babies and families to live happy, healthy lives.  She also writes little songs to inspire citizen action.
Lydia Wood, Campaign Coordinator
Lydia Wood is the Campaigner Coordinator for NuclearBan.US. Lydia is a PhD Candidate in Geography at San Diego State University and University of California, Santa Barbara. She has organizing experience on a range of labor, gender, social and economic justice issues. Since joining our team she has become a passionate advocate for nuclear abolition and loves being part of a movement to help create a life-affirming and nuclear weapons free world.
BOARD
Trudy Knowles, NuclearBan.US, Board President
Maureen Flannery, NuclearBan.US, Treasurer
Maxine Schmidt, NuclearBan.US, Clerk
ADVISORS
Our Advisory Board includes the legendary Quaker peace activist, Frances Crowe, former National Coordinator of the Nuclear Freeze Campaign, Randy Kehler, Lois Barber, a founder of several organizations, including Earth Action, 2020 Vision, Alliance for Renewable Energy and the World Future Council, Chuck Johnson, Director of Nuclear Programs for IPPNW, and former Executive Director of Nuclear Free America, a Baltimore-based clearinghouse for over 200 Nuclear Free Zones across the United States and international lawyer and activist, Alice Slater, who serves on the Coordinating Committee of World B