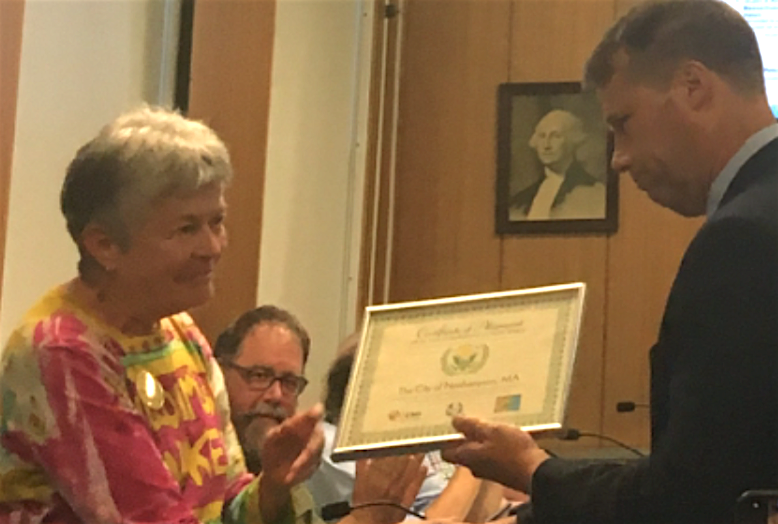 Northampton Mayor David Narkewicz receives Northampton's Certificate of Alignment with the Nuclear Ban Treaty, Sept 2019
Towns, cities and counties across the US can help rid the world of nuclear weapons. In addition to lobbying for state and federal legislators to sign the Pledge and work towards alignment with the 2017 UN Treaty on the Prohibition of Nuclear Weapons, Nuclear Ban is asking local governments and town residents to work towards the alignment of their municipalities with the Treaty.
Local elected officials can sign the ICAN City Legislators Pledge
to show their support for the TPNW and to help put pressure on state and federal legislators to also join in this effort.
Towns that have passed resolutions to align with the Treaty
Leverett, MA
Shutesbury, MA
Montague, MA
Conway, MA
Chesterfield, MA
Belchertown, MA
Towns that have passed "Back from the Brink" resolutions
Many towns and cities are passing resolutions calling on the federal government to "embrace" the Treaty on the Prohibition of Nuclear Weapons as well as to take immediate steps to pull us back from the brink of nuclear war. Where a town or city has called on the federal government "and the nation " to embrace the Treaty, we can go back to them and say "we are the nation – we can do something about this right here."
Working locally to get your town/city to become Treaty Aligned is about taking the next step after calling on the US government to do something, and deciding to do something ourselves at the local level. This means disconnecting from the nuclear weapons industry as far as we are able.
Existing Nuclear Free Zones
There are 220 towns, cities, counties and Native American nations across the United States which declared themselves Nuclear Free Zones (NFZs) in the 1980s. Most of these are still in force. Some of the local ordinances and city codes that established these zones are largely symbolic, but many have real teeth and include fines and other sanctions for violations. Sample ordinances and city codes are located here.
Many of these existing NFZs are already Aligned  with the Nuclear Ban Treaty. Others may want to revise their existing legislation to be better aligned with the Treaty.
Existing Mayors for Peace Cities
In addition to NFZs, there are 211 cities in the United States who have signed the Mayors for Peace (MfP) covenant. This commits the mayor to "make every effort…to achieve the total abolition of nuclear weapons…" These mayors may choose to appoint a Mayoral Commission to oversee Treaty Compliance for their city.
All other towns, cities and counties
In towns and cities which have neither a NFZ status nor a MfP connection, it will probably be necessary to first build public support for Treaty Alignment. This will be easiest in smaller towns which have a Town Meeting (common in New England) and such a proposal can be put on the agenda. In larger towns and cities, a more concerted effort may be needed: public meetings, a petition, local media coverage, letters to the City Council or Select Board, and Treaty Alignment campaigns at lower levels within the town/city, for example at schools, places of worship, workplaces, civic organizations, clubs, etc.
The first step is lobbying for a non-binding resolution in support of the Nuclear Ban Treaty, setting up a local committee or commission (unless one already exists) to look into what it would mean for your town or city to disconnect from the nuclear weapons industry, and finally getting a legally-binding ordinance that officially disconnects your town or city, as far as legally possible, from investments, contracts, and other connections with the nuclear weapons industry.
To be fully "Treaty Aligned," a town or city:
Has no public investments in any of the 26 companies that make nuclear weapons.
Does not purchase products or services from any of those companies.
Prohibits all other nuclear weapons-related activities, so far as they are able, within their jurisdiction or control.