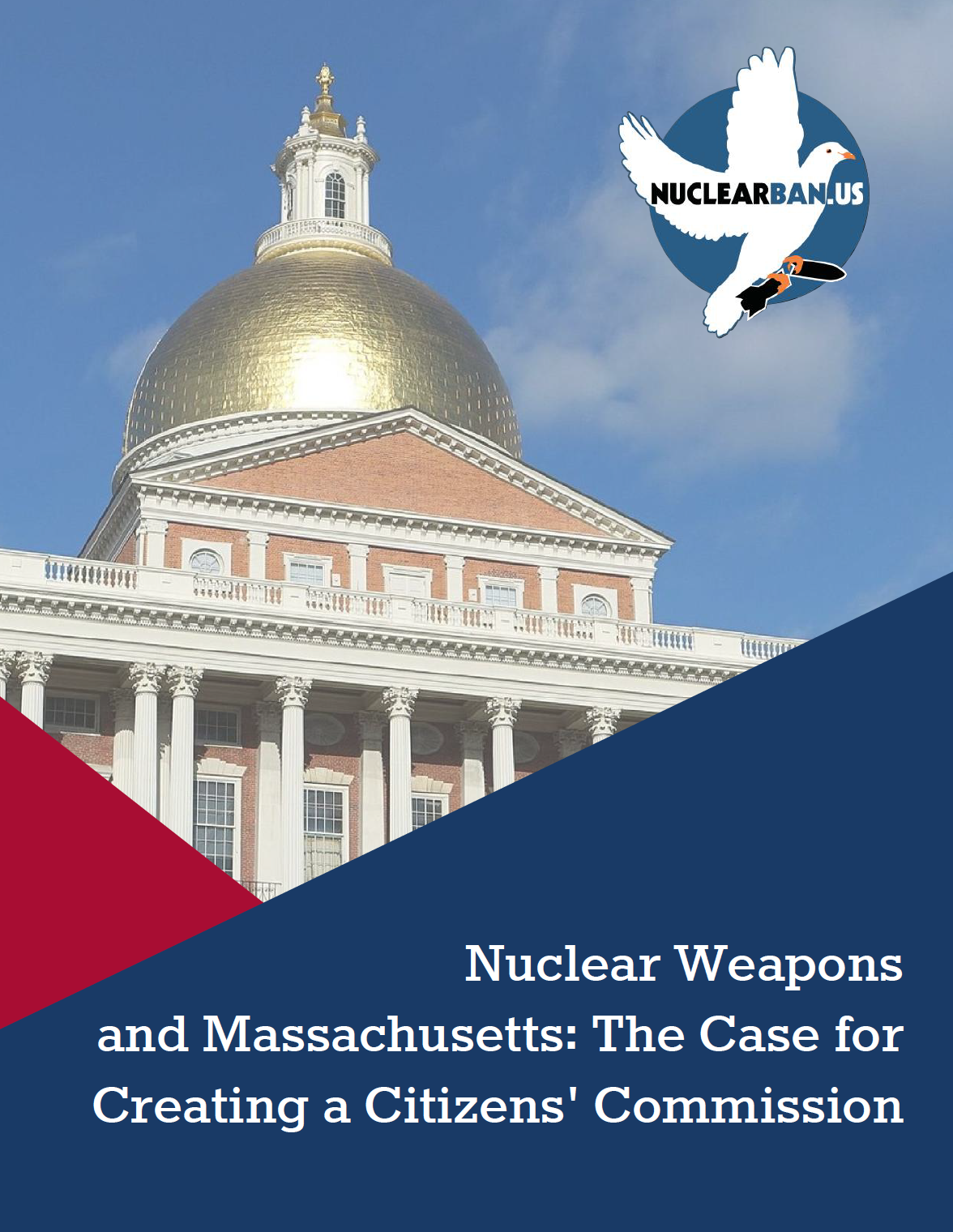 1. This is the legislation we are supporting in Massachusetts:
Nuclear Weapons Commission Bill:
This bill would create a citizens commission to investigate the existential threat posed by nuclear weapons to the Commonwealth of Massachusetts and what should be done about it.
2. Please write to your state legislators urging them to support this bill.
State legislators, and especially the leadership and those on the House and Senate Ways and Means Committees, need to know that people of Massachusetts care about the threat posed by nuclear weapons and that we want them to do something about it. They want to hear, above all, from their own constituents. You are free to write to any legislator you want, but they are likely to read it only if you live in their District, so we need you to write to your own state legislators and to encourage your friends and colleagues in other parts of the state to write to their own legislators.
3. Who are your state legislators?
If you don't know, use this link to find your State Rep and State Senator and their email addresses: https://openstates.org/find_your_legislator/
4. Just click on their name if they are on this list!
Senators:
Mike Barrett, 3rd Middlesex
Michael Brady, Second Plymouth and Bristol
William Brownsberger, 2nd Suffolk and Middlesex
Jo Comerford, Hampshire, Franklin and Worcester
Cynthia Creem, First Middlesex and Norfolk
Julian Cyr, Cape and Islands
Sal DiDomenico, Middlesex and Suffolk
Jamie Eldridge, Middlesex and Worcester
Ryan Fattman, Worcester and Norfolk
Paul Feeney, Bristol and Norfolk
Cindy Friedman, Fourth Middlesex
Adam Hinds, Berkshire, Hampshire, Franklin and Hamden
Jason Lewis, Fifth Middlesex
Joan Lovely, Second Essex
Michael Moore, Second Worcester
Susan Moran, Plymouth and Barnstable
Michael Rodrigues, First Bristol and Plymouth
Karen Spilka, Second Middlesex and Norfolk
Representatives:
David Biele, 4th Suffolk
Natalie Blais, 1st Franklin
Mike Connolly, 26th Middlesex
Josh Cutler, 6th Plymouth
Marcos Devers, 16th Essex
Mindy Domb, 3rd Hampshire
Paul Donato, 35th Middlesex
Nika Elugardo, 15th Suffolk
Dylan Fernandes, Barnstable, Dukes and Nantucket
Anne-Margaret Ferrante, 5th Essex
Carmine Gentile, 13th Middlesex
Natalie Higgins, 4th Worcester
Kate Hogan. 3rd Middlesex
Meghan Kilcoyne, 12th Worcester
Kay Khan, 11th Middlesex
Jack Patrick Lewis, 7th Middlesex
Elizabeth Malia, 11th Suffolk
Paul Mark, 2nd Berkshire
Ronald Mariano, 3rd Norfolk
Aaron Michlewitz, 3rd Suffolk
Christina Minicucci, 14th Essex
Brian Murray, 10th Worcester
David Rogers, 24th Middlesex
Lindsay Sabadosa, 1st Hampshire
Jon Santiago, 9th Suffolk
Chynah Tyler, 7th Suffolk
Erika Uyterhoeven, 27th Middlesex
Andres Vargas, 3rd Essex
Tommy Vitolo, 15th Norfolk
5. If they are NOT on the above list –
Write to your Rep and/or Senator at the email address you can find by clicking on the name you found from this link: https://openstates.org/find_your_legislator/ (or use this basic formula: FirstName.LastName@mahouse.gov or FirstName.LastName@masenate.gov)
Copy and paste this Generic Letter into the body of your email.
Edit and personalize the letter by adding something personal at the beginning or the end to make it your letter!
ADD A SUBJECT LINE. Suggestion: "Please support S.1555/H.3688"
Send a copy of your letter to the Senate President and Speaker of the House, by copying to the Cc: line:

ronald.mariano@mahouse.gov
karen.spilka@masenate.gov

BE SURE TO INCLUDE YOUR NAME, ADDRESS, AND PHONE NUMBER.
Send.
6. Great! You've just helped move the world one small step closer to eliminating nuclear weapons!
Thank you.
7. AND If you have already contacted your state rep and your state senator, or you prefer to write to other people you know, think about who else you know in Massachusetts that might be willing to write their own letters. Extra points if they happen to live in the district of someone on one of the above PRIORITY lists, especially Speaker of the House, Rep. Ronald Mariano, or another member of either Ways and Means Committee. Please direct them to the nuclearban.us/mass page and offer to help them write letters if needed.