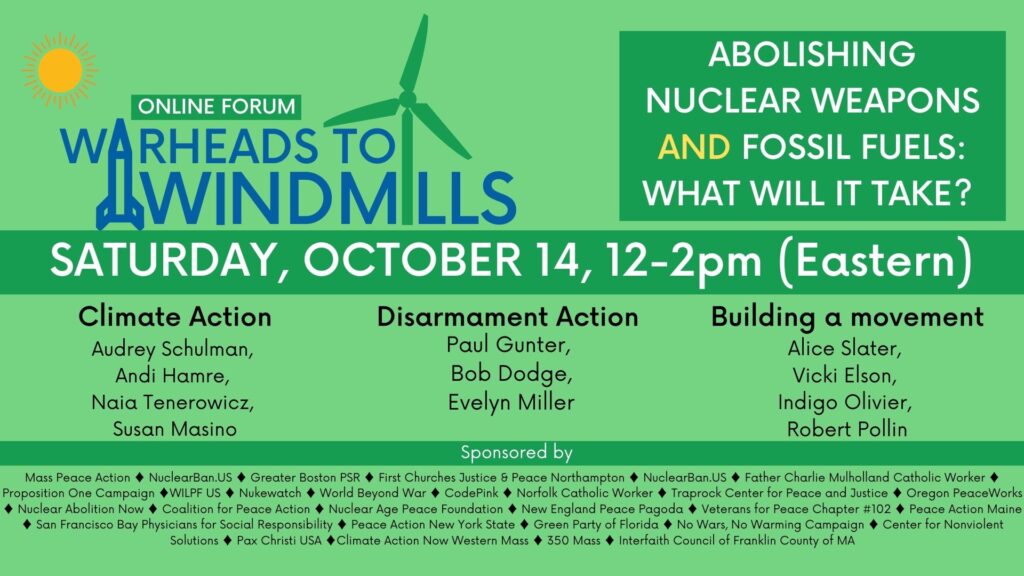 On October 14th from 12-2 pm the Warheads to Windmills Coalition hosted a successful online forum through Massachusetts Peace Action, with many great speakers on climate solutions, nuclear solutions, and how we can bring these two powerful movements together. We had 150 people participating from around the globe, eager to build a mass movement around these twin threats of nuclear war and climate change. Thank you to all of our wonderful speakers, our cosponsoring organizations, and everyone who registered and attended!
If you were unable to attend the event or just want to rewatch it you can find the recording by start time for each section below.
Check out our previous webinar here!
Check out our Warheads to Windmills coalition combining these movements!
To view all speaker bios click here.
Welcome:
Ivana Hughes, NAPF and Susan Theberge, CAN
Presentation of 2023 Paperback edition: Warheads to Windmills
Timmon Wallis, NuclearBan.US
What can we all do to support climate efforts?
Andi Hamre, PhD, Director of Policy and Research at Eno Center for Transportation
Audrey Schulman, Co-founder and Co-executive Director of HEET
Susan Masino, PhD, Vernon D. Roosa Professor of Applied Science at Trinity College and Charles Bullard Research Fellow at Harvard University
Naia Tenerowicz, CAN and Springfield Climate Justice Coalition
What can we all do to support efforts against nuclear weapons?
Paul Gunter, Director of Reactor Oversight Project at Beyond Nuclear
Evelyn Miller, MAPA Climate and Nuclear Disarmament United (CANDU)
Robert Dodge, Back from the Brink, PSR, IPPNW
Panel: Working together to strengthen our movements
Alice Slater, Board member World BEYOND War,
Vicki Elson, Creative Director NuclearBan.US
Robert Pollin, Co-Director of Political Economy Research Institute, Climate Economist at UMass Amherst
Indigo Olivier, Investigative Journalist on Militarism & Climate Issues
Closing:
Sponsors:
Mass Peace Action | Greater Boston PSR | First Churches Justice & Peace Northampton | NuclearBan.US | Father Charlie Mulholland Catholic Worker | Proposition One Campaign |WILPF US | Nukewatch | World Beyond War | CodePink | Norfolk Catholic Worker | Traprock Center for Peace and Justice | Oregon PeaceWorks | Nuclear Abolition Now | Coalition for Peace Action | Nuclear Age Peace Foundation | New England Peace Pagoda | Veterans for Peace Chapter #102 | Peace Action Maine | San Francisco Bay Physicians for Social Responsibility | Peace Action New York State | Green Party of Florida | No Wars, No Warming Campaign | Center for Nonviolent Solutions | Pax Christi USA |Climate Action Now Western Mass |350 Mass |Interfaith Council of Franklin County of MA
If you have any questions or want to learn more about how you can get involved contact us at [email protected]!