On July 7th, 2017, the countries of the United Nations adopted, by 122 to 1, the Treaty on the Prohibition of Nuclear Weapons. This new Treaty makes everything to do with nuclear weapons illegal. And it lays out the steps to achieve the total elimination of all nuclear weapons.
ICAN – the International Campaign for the Abolition of Nuclear Weapons – was awarded the 2017 Nobel Peace Prize for achieving the "impossible": a new Treaty banning nuclear weapons. ICAN is not interested in how many nuclear weapons are 'enough' or who will get rid of theirs 'first'. Their only concern is, 'how long will it take?' to finally rid the world of all nuclear weapons.
Until the United States signs, ratifies and implements this Treaty, WE THE PEOPLE can be working through our cities and towns, schools, businesses, unions and faith communities to work towards alignment with this Treaty – and you yourself can sign up to become personally Treaty Aligned right here, right now!
Why All Nuclear Weapons Must be Abolished
The world stands closer to the reality of nuclear war than at any time since the 1960s. North Korean President Kim Jong-un is determined to build the capacity to strike the United States with a nuclear weapon, and US President Donald Trump is determined to prevent that from happening.
The worst possible outcome to this nuclear brinkmanship is a nuclear war to eliminate North Korea's nuclear weapons – because these cannot be eliminated with conventional weapons. Such a war would create an unprecedented humanitarian catastrophe, not just for the 25 million people in North Korea, but for the whole world.
Radioactive fallout would affect millions of people in South Korea and Japan and would cause cancers, even as far away as the United States. Firestorms could potentially cause worldwide climate disruption and global famine on a scale never before seen in human history.
Every nuclear weapon, no matter whose it is or where it detonates, poses a real threat to all of us, everywhere.
These weapons of mass destruction serve no useful purpose. They pose a threat to all life on earth. They must be abolished.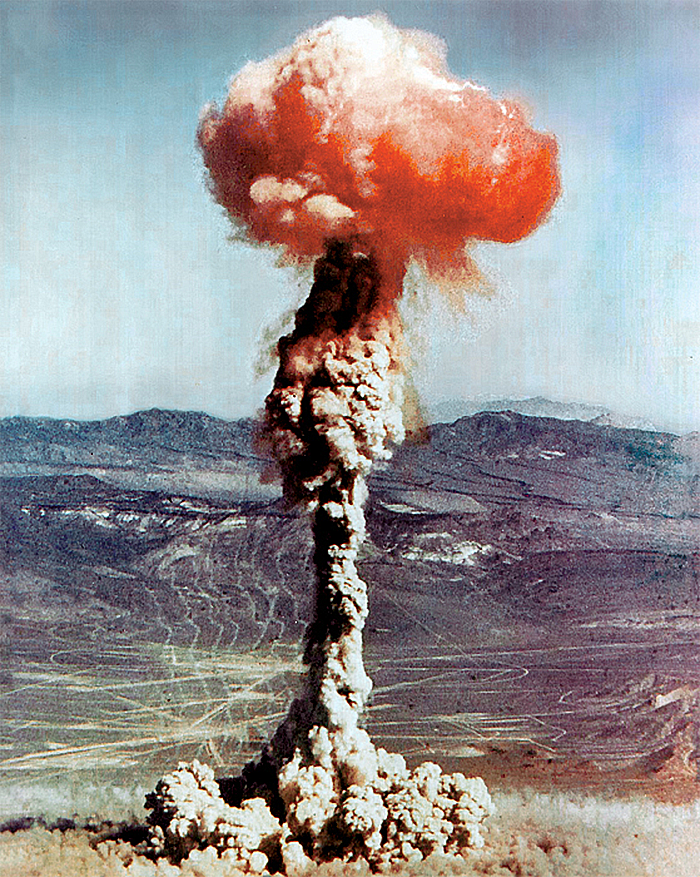 Nuclear weapon test, Nevada desert,1951
Next Steps for Individuals…
You can be part of the solution – and help rid the world of nuclear weapons! Join our campaign to get cities and states (and organizations and individuals) to work towards compliance with the Nuclear Ban Treaty. Sign up today!
Next Steps for Organizations, Businesses, Faith Communities, Cities and States…
If you are here on behalf of an organization or government, you can take immediate steps to begin the process of getting your organization or government to align with the Treaty. Sign up here.
Not based in the United States?
Go to the ICAN website for information about the global campaign and links to campaigns in other countries.