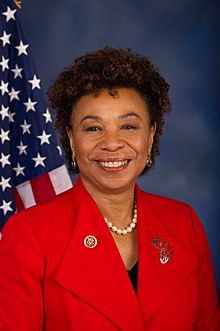 On December 21st, 2018 Congresswoman Barbara Lee became the fifth current member of Congress to sign the ICAN Parliamentary Pledge. Congresswoman Lee represents CA's 13th district and has served in Congress since 1998. By signing, Congresswoman Lee joins nearly 1,000 parliamentarians from 30 countries who have pledged to support the Treaty on the Prohibition of Nuclear Weapons (Nuclear Ban Treaty) in their respective countries. The pledge has also been signed by Representative Eleanor Holmes Norton (D-MD), Representative Betty McCollum (D-MN), Representative Keith Ellison (D-MN), and Representative Jim McGovern (D-MA).
The Treaty was adopted by 122 countries on July 22, 2017 at the UN, creating the world's first comprehensive ban on nuclear weapons under international law. So far, 69 countries have signed, and 19 countries have ratified the Treaty. Once 50 countries ratify the Treaty (expected to happen by 2020) it will enter into force. By signing the pledge, Congresswoman Barbara Lee takes a powerful stand in support of nuclear weapon abolition and promises to work towards the eventual ratification of the Nuclear Ban Treaty by the US government.
During her 20 years in congress Barbara Lee has been a consistent progressive voice for the Democratic party. She is the former chair of the Congressional Black Caucus and the former co-chair for the Congressional Progressive Caucus. She has been a strong voice for gun control, LGBTQ and women's rights, and the expansion of health care access, affordable housing and education. In 2001, Barbara Lee was the only member of Congress to vote against the authorization of military force in Afghanistan and has since been a hero to the anti-war movement. This December, Barbara Lee was assigned to co-chair the Democratic Steering and Policy Committee. In the position she will become a key player in shaping Democratic policy and agendas in the House of Representatives. As the newest signatory to the Parliamentary Pledge, Barbara Lee brings an influential and progressive voice in support of the Nuclear Ban Treaty to the upper echelons of US congressional leadership.
Moving forward, we need more progressive Congressional members to follow Barbara Lee in signing ICAN's Parliamentary Pledge. See an updated list of Congresspeople who have signed the Pledge here. Nuclear weapons are a universal humanitarian threat and their elimination should be a key provision of any progressive agenda. Progressive leaders should take seriously the need for nuclear weapons elimination by working towards the implementation of the Nuclear Ban Treaty here in the US. In addition, we also need congressional leaders to support incremental steps, like the Markey-Lieu Bill  and the Back from the Brink agenda which make these weapons a little less dangerous in the meantime.