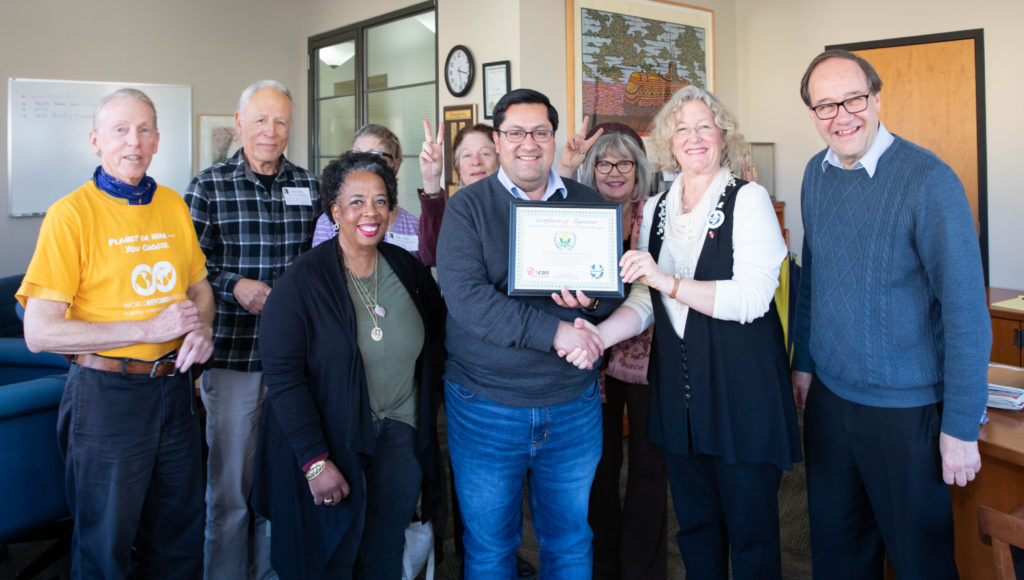 BERKELEY, DECEMBER 11: Berkeley Mayor Jesse Arreguin was presented yesterday with a certificate from NuclearBan.US, officially recognizing Berkeley's "Alignment" with the 2017 U.N. Treaty on the Prohibition of Nuclear Weapons.
Berkeley City Council passed a resolution on May 15, 2018, declaring itself 'strongly supportive' of the United Nations Treaty on the Prohibition of Nuclear Weapons and proclaiming itself 'in compliance' with the Treaty by virtue of its existing nuclear-free status. This was given official recognition at City Hall yesterday by campaigners involved with ICAN, the International Campaign to Abolish Nuclear Weapons.
ICAN was awarded the Nobel Peace Prize in 2017 for its role in bringing about the Treaty on the Prohibition of Nuclear Weapons. This new Treaty was adopted by 122 countries at the UN on July 7, 2017. The Treaty bans everything to do with nuclear weapons and will enter into force once it has been ratified by 50 countries.
"The City of Berkeley is not just calling on the federal government to sign this new Treaty. It is doing what it can right here and right now to comply with the Treaty, by banning everything to do with nuclear weapons, including boycotting and divesting from the nuclear weapons industry. Berkeley is an example we very much hope other towns and cities across the United States will follow," said Dr. Timmon Wallis, Executive Director of ICAN partner NuclearBan.US.
The Nuclear Free Berkeley Act was passed in 1986 and remains one of the strongest nuclear free zone ordinances in the country. Chapter 12.90 of the City Code prohibits all nuclear weapons related activities from taking place within the city limits, prevents city funds from being invested in companies engaged in such activities and bars those companies from entering into contracts with the City.
Any exceptions to these regulations must be approved by the City Council, which is responsible, through its Peace and Justice Commission, for monitoring the city's compliance with the Act. Violations of the Act are punishable by up to 30 days in prison and a fine of $500 for each day of violation.
Berkeley is the second city in the United States to be recognized for its 'Alignment' with the UN Treaty, after Takoma Park, Maryland was officially recognized earlier this year. Oakland, Ojai, Marin County and other cities and counties in California may soon follow.
The California state legislature passed a resolution in August calling on the federal government to embrace the new Treaty. Campaigners are now calling on the state to look into how it can bring itself into alignment with the Treaty at the state level.
This would include getting the University of California system to end its involvement and oversight of the nuclear weapons laboratories at Los Alamos and Lawrence Livermore Labs. The University of California has been involved with the development of nuclear weapons since the Second World War.
"California is complicit in the arms race, and if nuclear weapons were ever launched, it would be one of the prime attack targets," said the Swedish Executive Director of ICAN, Beatrice Fihn, in the Los Angeles Times, October 24, 2018. "Its citizens need to speak up to safeguard their future and end the state's participation in the weapons industry."